We're headed into St. Louis, MO this weekend. We're taking the kids, along with my parents, to see a show at the Fox Theatre. This will only be a day trip, but we plan on packing as much into it as possible.
We'll hopefully get to St. Louis early enough to visit for a while at my parent's house. They live about 20 minutes from the Fox and the restaurant we would like to lunch at. My goal is to get on the road in time to enjoy a leisurely lunch at Sweetie Pie's Upper Crust. You may have heard of the place since they now have a reality show on the OWN
network. The show, "Welcome to Sweetie Pie's",  focuses on the loud, loving, musical Montgomery family and their work to expand their collection of the soul food restaurants.
I've already researched the menu and am looking forward to ordering the Pork Steak – Smothered in Gravy dinner. It comes with 2 sides, which I already know will be green beans and macaroni and cheese. When it comes to any kind of soul food or diner type food, I always judge the time based on their green beans and mac and cheese. (I know, it's a real official way to "judge". I just believe if they can make the green beans taste good and have a good mac and cheese recipe, they can pretty much demand repeat business from me.  I know the rest will be good!) You can order their cookbook here:
After lunch, we should be able to walk over to the fabulous Fox Theatre and arrive in plenty of time to look around and take some pics of the décor before our matinee. If you really want a touch of history, you can take a tour of the Fox every Tuesday, Thursday, and Saturday mornings for $7-$10/per person. We did this a couple of years ago and found the 90-minute tour to be very interesting. The kids particulary enjoyed the presentation of Big Mo, one of two Wurlitzer organs located in the theatre, which takes place on the Saturday tours.
We're looking forward to seeing School of Rock–the Musical.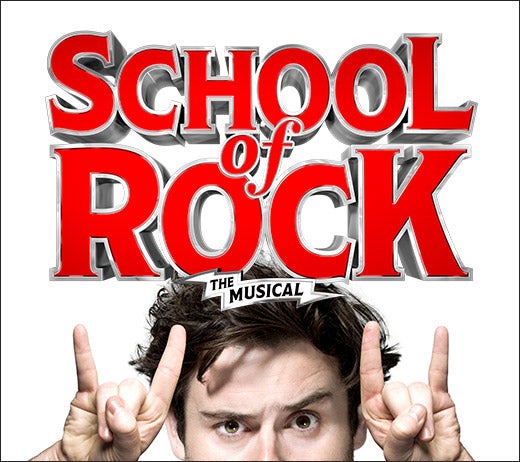 Entertainment Weekly calls it "an inspiring jolt of energy, joy and mad skillz!" I just hope it lives up to the expectations of my family.
We may or may not stick around after the show ends. We'll probably be ready for dinner before heading back up the highway to home, so maybe it can be a kids choice dinner. Regardless, I'm looking forward to our time at the Fox in St. Louis and hoping we all create a fun memory of it.